The Five

Areas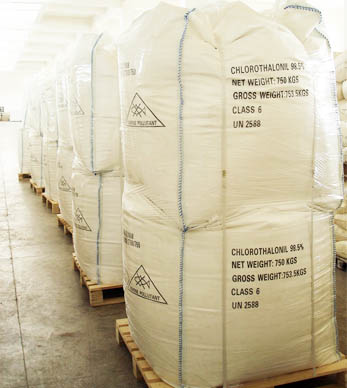 Chlorothalonil tech 98%min.
Agrochemical CAS NO.: 1897-45-6
Specification issued date: July. 2015 Chlorothalonil tech.
Chemical nameTetrachloroisophthalonitrile
Molar mass265.9
Common nameChlorothalonil
Molar pointAppr. 250℃
Empirical formulaC8Cl4N2
AppearanceOff white to white crystalline powder
OdourOdorless
Structural formula
Durability
Thermally stable at ambient temperatures. Stable to U.V. light in aqueous media and in crystalline state. Stable in acidic and moderately alkaline aqueous solutions; slow hydrolysis at PH>9.
Technical demands
| | |
| --- | --- |
| Purity | 98.5%,98%min |
| HCB | 40 ppm max |
| PH value | 5.0-7.0 |
| Insoluble in xylene | 0.35% max |
| Fineness | min. 98% through 325mesh |
| Appearance | white crystalline powde |
Packing and transport information
Packing: in 25kg WPP bag with inner PE bag
1FCL20#=16mt without pallet
1FCL20#=12mt with pallet
in 500kg big bag with inner PE bag.
1FCL20#=12mt with pallet
in 750kg big bag with inner PE bag.
1FCL20#=15mt with pallet
Transport: Class 6.1 UN No. 2588 Packing group: Ⅱ
More information and MSDS , please contact us by email :sulichem@suli.com
General notes: all data given in this leaflet are intended to inform you about our products , they are based on our present knowledge and experience and given without a guarantee and are subject to alterations. We recommend to test our products for their adequacy. A liability for violation of protective rights of third parties or infringements of legal regulations in excluded.
Chlorothalonil tech 98%min.